I work as an internet marketing consultant. I work every chance I have in between therapies and appointments. So when the IPAD came out I figured it was a great investment for me so I can work while at doctor's appointments, while waiting for Nathan to finish his therapies, etc. Little did I know that I was venturing into A WHOLE NEW WORLD. Not for me. For Nathan.
I've had the IPAD for about a week and I LOVE it. It's great and I have been able to keep up with work while on the move.
And then today I decided to check out some apps for Nathan. I was BLOWN away. There are SO MANY apps that Nathan can use! Some are augmentative communication apps, others are apps for babies, some are educational, others are just recreational. The key is – now Nathan has endless opportunities for play and to learn – that he can CONTROL regardless of all of his motor problems!
I think I am just starting to see the potential. He can choose movies he wants to watch. He can tell me what his needs are using taptotalk or proloquo2go. He can read interactive books – and turn the pages by himself. He can see flash cards of all kinds of things – animals, shapes, musical instruments, etc. He can color with his hands. He can choose what music he wants to listen to.
All of a sudden Nathan not only has a light, portable, easy to use communication system – he also has an entire entertainment mobile entertainment system that does all of the things he enjoys!
Here is an example of some of the apps I installed for Nathan today:
I only tried out a couple with him, and was AMAZED at how quickly he figured out how to use them!
For this app, he had to touch the middle of the screen to get more letters appear:
[youtube http://www.youtube.com/watch?v=LvQaO1L49PU&hl=en_US&fs=1&rel=0]
And for this one, he had to touch a small arrow in the bottom right hand corner of the screen. He figured that one out real quick, so Mr. Impatience had to keep tapping away!
[youtube http://www.youtube.com/watch?v=uqqwRxhUqmk&hl=en_US&fs=1&rel=0]
I will take more videos over the coming days of Nathan playing with the other apps.
I can already envision the possibilities, and I am SO EXCITED about this.
The bad news: I am out of an Ipad. I am already planning on setting it up for him to take to school, he can use it while in therapy, etc etc. Bye bye ipad, I enjoyed you while I had you. But you are going to a far more worthy owner 🙂
PS. I am already trying to find some kind of a glove that we can put on him which pulls out his pointer finger and keeps it pointed so he can make more accurate selections.
PPS. I once saw an elbow support system that could be attached to a wheelchair. Such a contraption would give Nathan support and stability of his arm/elbow so he can make choices more accurately with his hand. This, combined with a glove/splint that keeps his pointer finger out, should give him consistent, reliable access. It's something like this: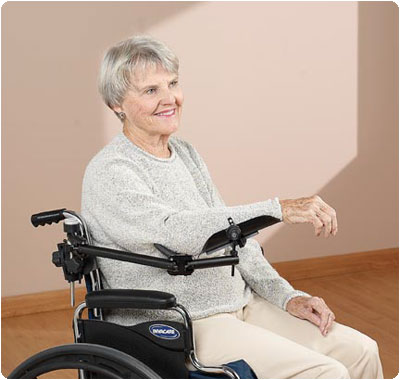 I see some more of them here: Mobile arm supports
PPPS. If anybody knows/has seen this arm/elbow support system, please send me the link – I can't find it!