Nathan was 2 years old last week. 2! Can you believe it! The child who wouldn't make it past birth, turned 2!
My first thought was, what if they'd diagnosed him before the 24 week abortion deadline?!?! I would've been told abortion would've been the most compassionate choice.
And my hero, my inspiration, my teacher would've never been born.
It's been 2 years now! 2 years of exquisite joy, sadness, fear, tender love, and 2 million questions.
And how is Nathan?
Healthy and happy!
For one whole year I thought this was not enough. It wasn't enough that today he is healthy and happy. Deep down I feared for his future. Who cares if he's healthy and happy today..will he be healthy and happy tommorrow? So I tried very hard to accept the reality, but very deep down my fear festered like a wound.
Then we went to England.
Just like the year before, England was a very powerful experience. The first week was hell. I was alone to care for Nathan for an extended period of time for the first time since he was born. Nathan's always been passed around like a $100 bill. In a typical day he has at least 3 caretakers. But in England it was me, me and me. And it was hard, hard and hard.
And of course I cracked like an egg. I shattered into pieces wonderered if one day before I died I would manage to be whole again.
And then it happened.
A good friend and wonderful healer forced me to understand that the only way to get through this experience is with unconditional love. Love him unconditionally Marcela. Don't try to change him. Don't force him to be someone he's not. Look at that child, he is crazy about you, all he wants is to make you happy. Yet you won't accept his offering, he can't make you happy. You won't be happy with what he's giving you, you think you'll be happy when he changes enough and when he's made significant improvements. How sad? It is not acceptable for you to do that to your son! It is not fair. He loves you so much and wants to do whatever he can to make you happy. And all you want to do is change him. You think you can control his future by changing him. You think your fear of him suffering in the future will help to prevent it. But the only thing you can really control is how you feel now. The only thing that you have power over is to accept his offering of love, and to reciprocate his unconditional love for you.
And then the tumor was gone. That heaviness I'd felt in my chest for the last few months disappeared and I felt I could breathe again.
I can do that. I can love him unconditionally. What else matters, really? That unconditional love is what every child craves, looks for. I can love my Nathan unconditionally, today. I can accept my Nathan unconditionally, today. And with enough practice, we can get through anything!
So I have my job for this year. Unconditional love.
And Nathan has his – to be Nathan! Win win situation!
So what do we have planned for the future?
– More stem cells! We want to go 4 times in the next 12 months to Dominican Republic for stem cell treatments.
– Hyperbaric Oxygen Therapy – A couple of rounds of 40 dives.
– Intensive Therapy – at least 2-4 therapy sessions at NapaInstitute.com
– Reach – Continue his program on a daily basis and return for revisions every 6 months.
– Anat Baniel Method – Try it out, see if it helps him.
– Osteopathy and Acupuncture
And in between – lots of travelling and lots of fun! We are planning on going to France and Spain in the fall. And our next trip to Dominican Republic we want to stay at last one week. Hopefully we'll get to Colombia before Nathan's third birthday.
Most importantly, we've decided that the most intensive therapy Nathan needs to receive is fun therapy! We went to Gymboree today and got a class schedule and we're planning on taking Nathan to a music and an art class. He was SO HAPPY in class surrounded by other children.
And how far has Nathan come in the last 12 months?
He's smarter, he's stronger, and he's cuter! What more could anyone want!
Oh, and some exciting news! Nathan got approved for his first wheelchair! We are really excited about his new wheels: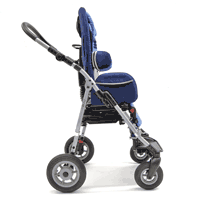 They denied him the gait trainer and hart walker, so I'm getting ready to come at them with guns blazing. I enjoy a good fight, so I'm getting a lawyer lined up, and all my paperwork ready. Before they realize what's hit them, Nathan WILL have all the equipment he needs. At least 33% of our goal has been met. They placed the order today so we hope to have it within 2-4 weeks!
And what does Nathan Dorje think about all this?
He thinks life would be perfect if he could watch TV all day. His rota would be: The Incredibles, Lilo 1, Lilo 2, Elmo in Grouchland. Begin again. He eats like there's no tommorrow, but lately has become a little more selective about his food. It better be tasty or he's not eating it! Chocolate and ice cream are his favorites. He grumbles when he has to do therapy but loves the "all done" part, because he knows he gets cuddled after all his hard work. No matter how late he goes to sleep he's always up before 7 am – why give mommy and daddy the pleasure of sleeping in! No way! He laughs at the most random things…things like, "hip hip, horray" and someone shaking their booty at him. He's starting to get over elmo and to replace his love of elmo with superheroes, especially Mr. Incredible. He has gained one major gross motor skill – he can roll over from his belly to his back! And this skill he gained because he was sick of being left on his belly and he had to gain an edge and a way out. So now if we leave him on his belly for tummy time we often find him with a smirk and a gigle on his back. And the most amazing thing about Nathan is how much he loves people! He loves people of all ages, shapes and sizes. Lately he's fallen in love with little people. He just LOVES watching kids play. He laughs at their antics. He thinks that every movement is hysterical. Kids make him so happy.
And now I've come to the most important part of this update.
Thsi is the part where I thank everyone that's walked this journey for us. This is where I express my deepest, most sincere gratitude for all of the help and support we have received. This is where I thank everyone that sent us a prayer, a word of encouragement, a donation. And especially everyone that has worked so hard to help Nathan, his therapists, his case coordinators, his doctors, our family and friends. From the depths of my heart – thank you.